Reporting a repair
From time to time things may break or stop working in your home, so you'll need to report it as a repair to us so we can hopefully fix it for you as quickly as possible.
How to report a repair
Emergencies
If you believe your repair is an emergency and the health and safety of you and your family is at risk, the fabric of your building has been compromised, or you have no hot water, heating or electricity please telephone us immediately on the number below:
0300 123 2221

Non-emergencies
There are a number of different ways you can report your non-emergency or routine repair to us.
Call us
You can contact our dedicated Repair Hub between 8am-5pm, Monday-Friday and speak with one of our advisors.
0300 123 2221


Diagnose and report your repair using My PA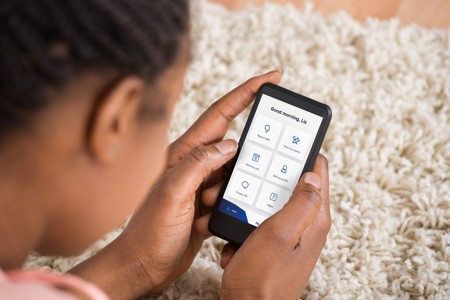 The quickest and easiest way to report a repair - and lots of other things to manage your home - is to use My PA.  It helps you diagnose your own repairs, book an appointment to suit you, and even check progress after you book.
On average, it takes less than 2 minutes to do and you can upload photos to show the exact problem. That means you don't have to give a long description, and your repair is much more likely to be fixed first time if we can see the problem in advance. 
Why not give it a go?
Access to My PA is easy.  Simply click the button below and follow the instructions.
If you've not already registered, you will need your Payment Reference number to hand.

Send us an email
You can email you repair requests to us as well by contacting us at [email protected] 
Please do not report your repairs through our social media channels.

Repairs priorities
Depending on the repair you need to report, it will be allocated a priority.  This means the time it takes us to both attend and fix the fault may differ as we need to prioritise customers who have emergencies.
Priority 1

Emergency work to be attended to and made safe within four hours and rectified within 24 hours.

An emergency repair is one that immediately affects your health, safety or security and would endanger life, or, if not repaired or will damage the fabric of the building. Emergency repairs will be completed within 24 hours. On this basis, appointments are not available for
emergency repairs. Often the solution is to make the immediate risk safe with further routine repairs required to fully remedy the issue.

Examples of emergency repairs are:

Burst pipes
Blocked drains or toilet (if there is only one toilet)
Gas leaks
Broken windows
Severe roof leaks
Flooding
No hot water
Offensive or discriminatory graffiti
Fire damage
Total loss of heating (October – March)
Total loss of power or lighting

Priority 2

Non emergency repairs work to be completed within 15 working days

Some repairs will need more than one appointment to resolve. Our contractor will arrange the next appointment date if this is required, following the first appointment.

Examples of non-emergency repairs are:

Blocked drains, sinks, basins, baths and toilets
Defective cistern or overflow
Heating faults or breakdowns
Leaking roofs
Electrical works
Blocked gutters
Failure of entry phone
Damage to stair treads, handrails or banisters
Minor plumbing repairs
Plasterwork
Kitchen units and worktops
Repairs to doors, windows and floors
External repairs to walls, and pathways
Dripping or leaking taps or shower units
Faulty communal TV aerial
Non offensive graffiti
Re-glazing (if a crime has been committed and a reference number provided)
Repairs to windows and external doors

Repair responsibilities 
We don't fix everything and some of the things in your home will be your responsibility to maintain.
Our repairs responsibilities

External walls, external doors and window frames.
Chimneys, chimney stack and flues.
Pathways, steps and ramps leading to your home, if we provided them.
Garages and outbuildings, if we provided them.
Boundary walls and fences separating your home from communal areas, public paths or roads.
External hinges, handles, letterboxes and locks. Door frames.
Structural repairs to internal walls and skirting boards.
Window frames and sills.
Boarding up broken glass in windows and doors externally.
Replacing broken glass in windows where a crime reference number has been provided by you.
Repairs following criminal damage or vandalism. Unless this is caused by you or those you are not responsible for.
Pipework fed by mains services.
Hot and cold water pipework.
Repairing wall tiles and all splash backs unless they are damaged through misuse.
Repairing sinks and taps (not blocked sinks).
Providing suitable waterproof flooring in the kitchen and bathroom.
Maintaining the bathroom suite as required by the Decent Homes Standard.
Maintaining your kitchen in line with the Government's Decent Homes Standard.
Unblocking toilets in blocks of flats, main drains and soil stacks.
Repairs to sinks, wash hand basins, toilets, baths and showers.
Unblocking communal waste pipes and drains. Unblocking soil pipes.
Fixed, controllable heating systems, gas fired boilers, night storage heaters, radiators and gas supply pipework.
Servicing gas and solid fuel heating systems, and annual gas safety checks for gas boilers and gas installations.
Electric immersion heaters fitted to hot water storage cylinders.
Other types of fitted heating, if originally supplied and fitted by us.
Repairing mechanical air extraction systems such as extractor fans.
Repairing the structure of the property to eradicate penetrating damp.
External decoration, periodically assessed.
Maintaining fixed electrical installations.
Maintaining communal door and intercom systems.
Repairing or replacing faulty locks to external doors.
Maintaining mains operated fire or smoke alarms installed by us.
Building and structure cover.
Repairing communal washing lines.
Maintaining appliances we have installed, which have not been gifted to you.

Customer repairs responsibilities

Cleaning the inside and outside of windows.
Sweeping chimney flues where we have solid fuel fire installations.
Keeping external areas and pathways clean and free from rubbish. Any rubbish clearance required in your home.
Any temporary structure erected (subject to the necessary permission being granted by us)
Fencing between neighbouring properties.
Repairing internal doors including replacing locks and handles. Fitting or replacing any spyhole and door chain. Repairs to doorbells (electric or battery operated).
Filling minor cracks.
Installing or replacing draught excluders.
Replacing broken glass or glazing to any doors, windows or fixed panes where a crime reference number has not been provided by the police.
Damage caused by the police or any other enforcement agency as a result of forced access. Any damage to your home as a result of you or those you are responsible for.
Any damage caused to properties by sink or washing machine overflowing or flooding.
Damage to plumbing installation within your home if caused by misuse.
Providing additional tiling/splashbacks if required in order to keep your home free from damp and water penetration. Subject to written permission.
De-scaling sinks and taps. Replacing chains and plugs.
Keeping all surfaces clean and free from moisture.
De-scaling and cleaning the toilet, bath, shower head and shower tray. Replacing or repairing flexible shower hose and shower head. Replacing baths, basins or sinks if damaged by misuse or neglect.
Ensuring worktops and cupboards are not damaged. Keeping surfaces free from water. Repairing or replacing kitchen units if damaged by misuse or neglect.
Unblocking toilets in self-contained houses. Replacement of toilet seats.
Unblocking sinks, wash hand basins, baths, and showers.
Unblocking drains where the blockage is as a result of anything which would not usually be flushed or emptied in them.
Maintaining and repairing any portable heating appliances.
Bleeding radiators and operating the central heating system. Letting gas engineers in to carry out annual safety checks and gas servicing, which is a legal requirement. Please see the gas servicing leaflet.
Any heating appliance that has been given to you by us.
Any connection to your appliances. Regular cleaning of mechanical extraction systems.
Taking action to prevent and control condensation. Keeping your home properly ventilated and free from moisture. 
All internal decoration.
Replacing three pin plug cartridge fuses, fluorescent tubes and starters, any type of light bulbs and lamp shades.
Repairs following misuse of communal doors and intercom systems. Keeping doors closed and secure.
Replacing door and window keys. Obtaining additional keys. Replacing locks where the key has broken in it.
Regular test of domestic smoke alarms and carbon monoxide detectors. Replacement of batteries.
Obtaining your own household contents insurance cover for your belongings.
Accidental damage. We recommend taking out an insurance policy to cover your personal belongings against fire, flood, accidental damage and theft. The National Housing Federation offers a 'My Home' policy which may be suitable: call 0345 450 7288 for details.
Installing or repairing washing lines and washing line pole.
Repairing anything you have installed, also including any damage as a result of installed items.
Installing any additional security items (once you have obtained written permission).
Fitting or dismantling satellite dishes (you will need to obtain written permission first).
Fitting and/or dismantling TV aerials, telephone points, connections and sockets.

You can find out more about which repairs are your responsibility by reading our Maintenance policy

Repairs advice
Where something is your responsibility to fix you can follow some simple 'how to' guides to get you up and running again as quickly as possible.  Some common repairs are in the links below:

Disclaimer:
All advice is offered as guidance only. All repairs you carry out at your property are done so at your own risk. We are not liable for any damage or injury incurred as a result of DIY. We reserve the right to charge the cost of any and all rectification work required as a result of poor workmanship. If you are not confident in carrying your own repairs please seek advice and appoint a suitable, competent and insured contractor.
Do you need to make a complaint?
If you receive poor service, then please tell us about it so we have the opportunity to put things right. We greatly appreciate your time and use any feedback as an opportunity to improve our services.