PA in Bloom Winners 2021 Announced
2021 - September, Latest news
Each year, PA in bloom celebrates the hard work and pride our residents put into their open spaces and gardens, making a real difference in making communities more vibrant and beautiful places to live.
All types of gardens and open spaces are encouraged to enter, and this year saw a wide range of categories and entrants enter from gardens, balconies and small open areas to communal gardens.
Thank you and well done to everyone who entered, we had over 40 entries enter this year from across the UK, but due to the Government guidance for Covid-19, we were unable to visit any outdoor spaces or gardens in person to hear photos sent in by our entrants did their stories and ideas and the judging.
The competition judges included Deana Clarke, Sally Griffith, Melissa Lacide and Olivia Lawrence. After some difficult decisions and the closest runners up ever, the winners and runners-up were finally chosen.
The judges have been very impressed with everyone's ideas and achievements this year, especially more so during the last year we've all faced. I can't wait to see what everyone creates for next year.

Melissa Lacide, Judge
Winner: Sharon Perry from Burton Latimer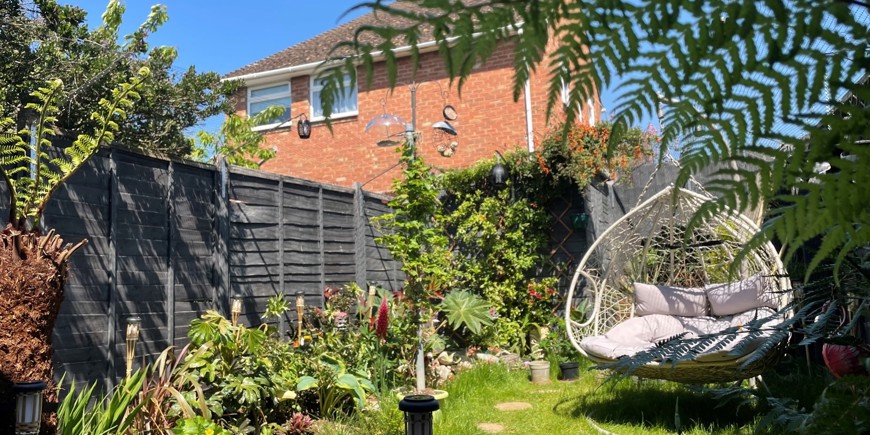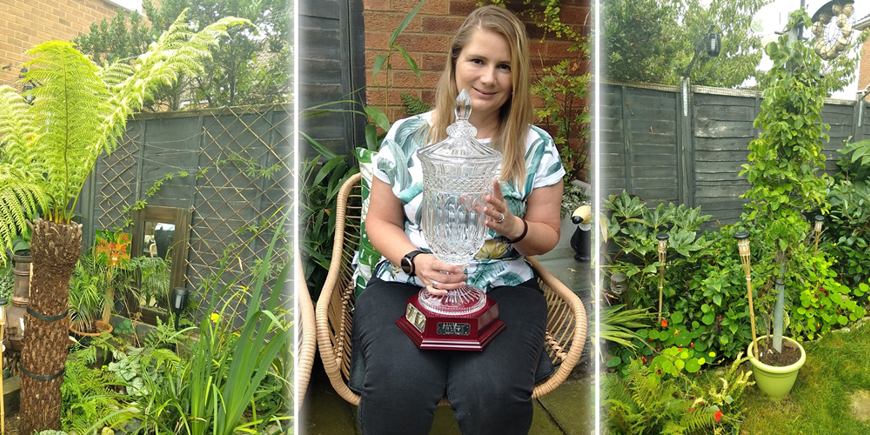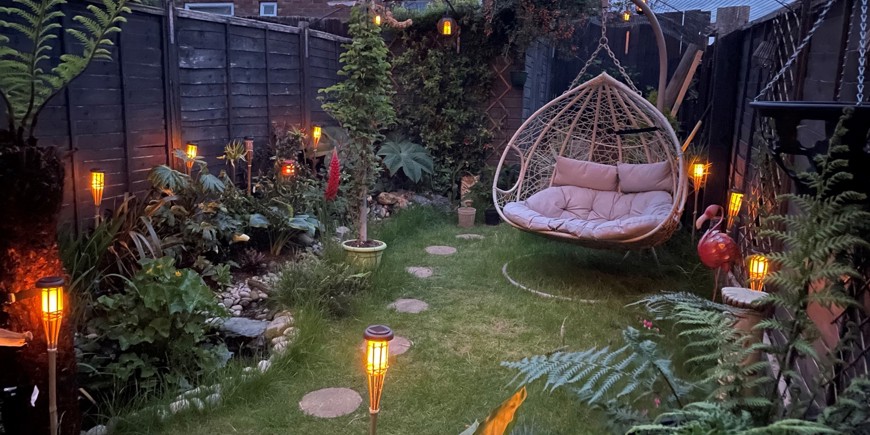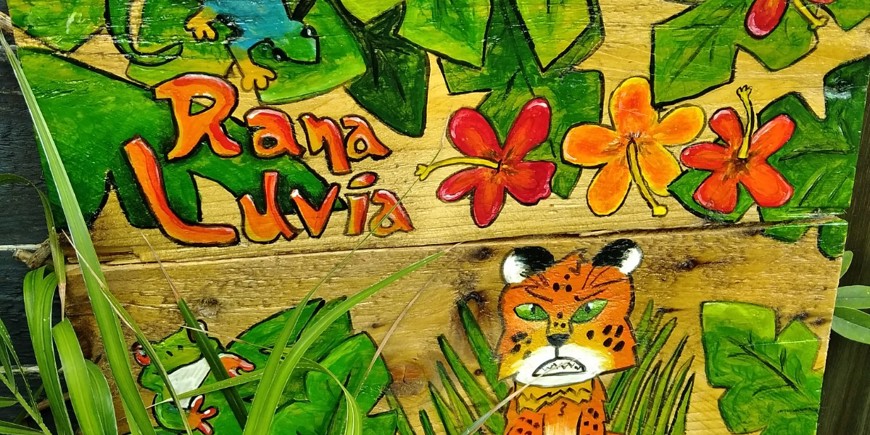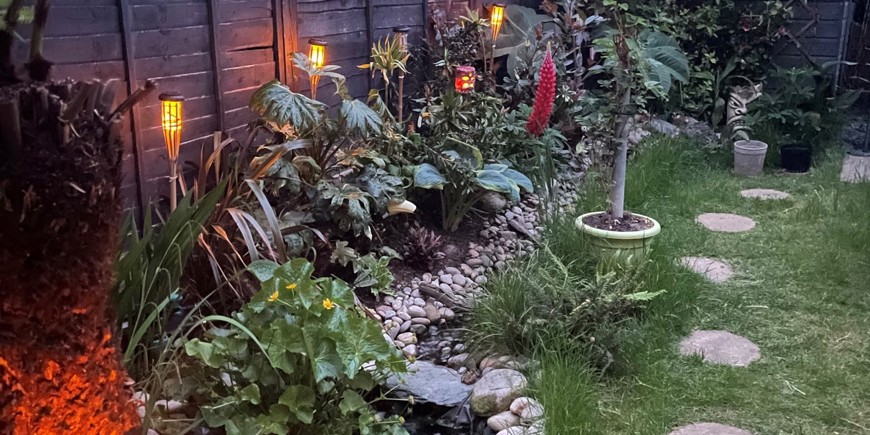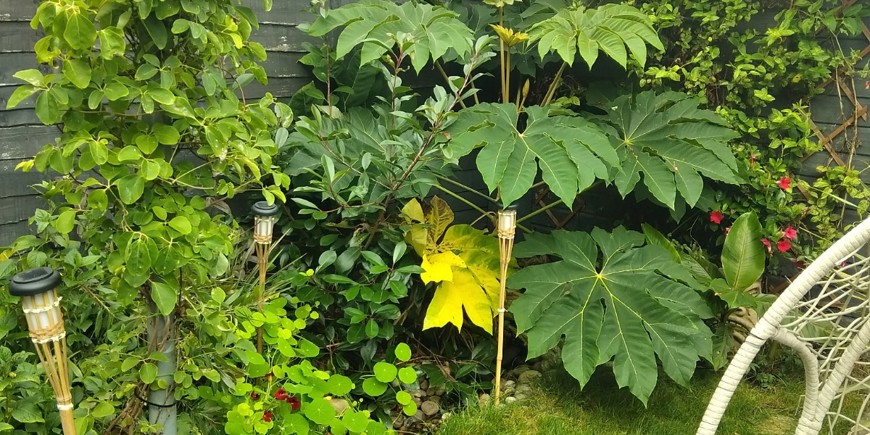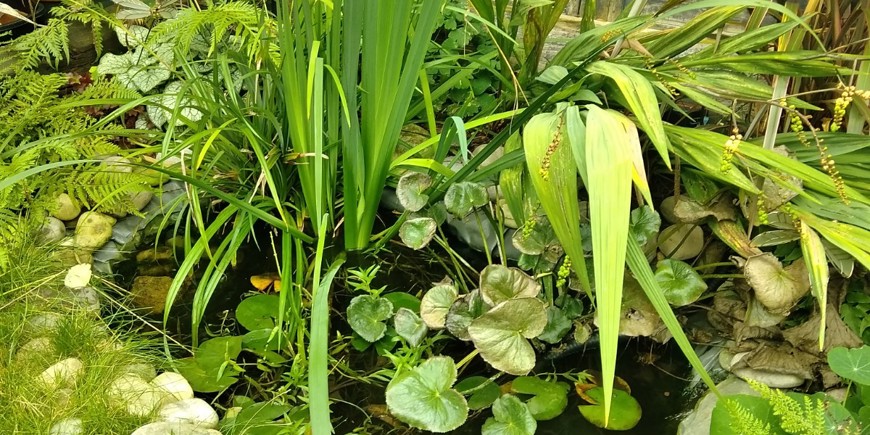 How do you feel about being the overall winner and also winning the small garden competition?
Sharon was incredibly pleased and surprised to be the overall winner of PA in Bloom and the Best Small Garden. However, she acknowledged that her husband Dan and daughter also need to be given the credit it has very much been a family labour of love transforming their lives garden.
What would your advice be to other residents about having a winning garden?
Sharon commented that planning and preparation is vital for any garden design and had some specific requirements that she knew she wanted to be incorporated, such as a small pond and a water feature which are home now to fish, frogs and a newt and specific plants and trees that were planted including a striking Antarctica tree fern "Dicksonia".  Sharon and Dan both enjoy working on their garden together, and they aim to keep it quite natural and eco-friendly.
What are your gardening plans for the next year?
Sharon is looking forward to the plants becoming more established so that eventually, they are big enough to camouflage the fence.  All the flowers in the garden are intentionally red, but next year will be incorporating more tropical colours influenced by their love of travel.
I thoroughly enjoyed the hour that I spent sitting in this beautiful garden there was something to see behind every leaf and pot. It has been so carefully thought out from them up-cycling old slabs and sleepers that had been buried under decking to the strategic use of pots and planters and the wooden banner that they have made naming the garden Rana Luvia – which means "Rain Frog" . I am looking forward to returning next year to see how the garden has evolved.

Competition Judge, Sally Griffith
Runner Up: Raymond and Elizabeth Smith, Walton-on-Thames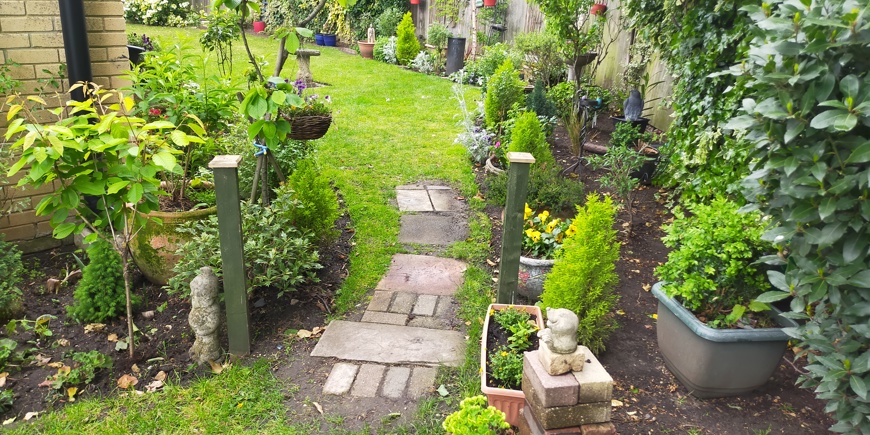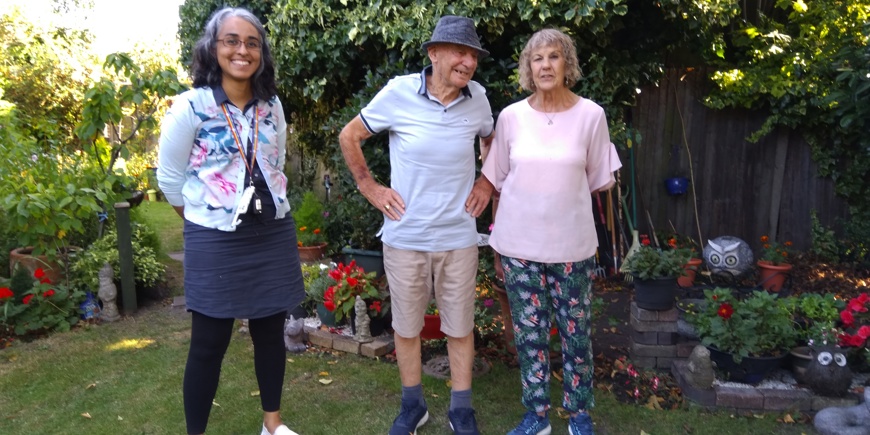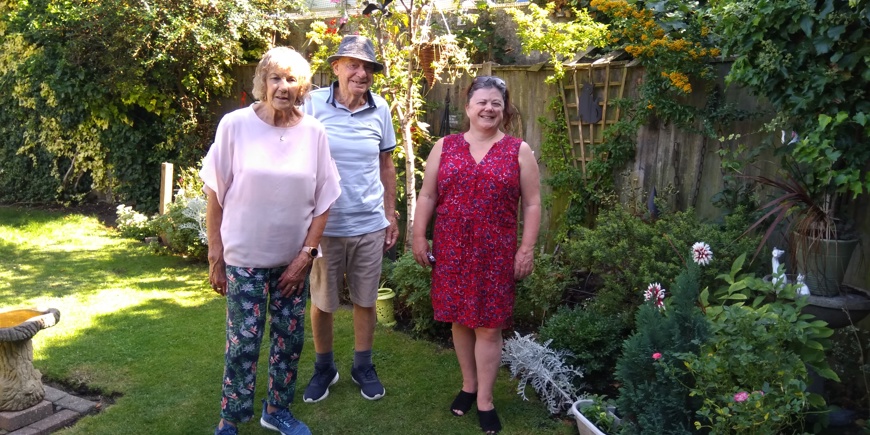 How do you feel about being overall runners-up and winning the community/ communal garden category in the competition?
It was amazing, brilliant – we didn't think we'd get that and couldn't believe it.  It was nice and unexpected!  Over the last 18 months, this space has meant everything to us, where we could be out there every day.  If we didn't have this, then we don't know what we would've done.  We've been out each day to buy plants so we can plant them.  It's been therapeutic to come out to the garden and forget everything when you're in it.
What would your advice be to other residents about having a winning garden?
Come out each day - look at what you've got outside and see what can be done to make it friendly.  It's little things – looking and trying to make a little garden, even if you've not got a lot or have a small space.  Do it nicely and do the work.
What are your gardening plans for the next year?
We'll be at the garden centre spending our vouchers!  We want to get the garden done nicely to hopefully win - get it ready for next year, even if we didn't win.


All entrants and runners up have received a certificate and garden vouchers, and the overall winner also received this along with an engraved cup for their efforts.
No matter how big or small your space is, there's a category to enter for everyone.
We hope these pictures will inspire many of our residents to enter the next time!