Investor relations
You could help provide homes where they're needed.  We build homes in areas where there is an overwhelming demand for affordable housing. 
We have a strong business plan and are committed to supplying more high quality new homes with low levels of subsidy. To meet our aim we need diverse funding sources to provide necessary investment and maintain liquidity. We welcome approaches from new investors.
Announcement from Paragon Treasury Plc
Paragon Asra Housing Limited ('PA Housing') trading update and unaudited financial results for the period ended 31 March 2020.


Paragon Asra Housing Limited: Update on response to Coronavirus
Paragon Treasury Plc's parent company, Paragon Asra Housing Limited ('PA') sets out its response to the Coronavirus situation and its current expectations in respect of financial performance impacts.

2018/19 financial statements and supplementary information for investors
Paragon Treasury Plc's parent company, Paragon Asra Housing Limited ('PA'), announces the release of its audited financial statements for the financial year ended 31 March 2019. 
PA is pleased to confirm that its results for the year were in line with the Board's financial plans, confirming continued strong performance. Key group figures are as follows: 
| | | | |
| --- | --- | --- | --- |
|   | 2018/19 |   | 2017/18 |
| Turnover £m | 160 |   | 165 |
| Of which shared ownership sales | 11 |   | 15 |
| Operating surplus £m | 62 |   | 65 |
| Operating margin (overall) | 39% |   | 40% |
| Operating margin (social housing lettings) | 33% |   | 36% |
| Operating margin (shared ownership sales) | 33% |   | 40% |
| Net surplus before tax £m | 39 |   | 33 |
| Total assets less current liabilities £m | 1,714 |   | 1,671 |
| Cash reserves £m | 50 |   | 23 |
| Financial indebtedness £m | 712 |   | 691 |
| Properties owned/managed | 23,059 |   | 23,505 |
These results represent a stable and resilient financial position, allowing the Board to make appropriate strategic decisions in pursuit of PA's vision - which is to become widely recognised as a social enterprise with a reputation for providing quality homes and services. 
The full audited financial statements for PA are available below: 
An information pack to update investors on various aspects of PA's performance and plans is also available. This includes an addendum which covers the following in response to recent investor enquiries: 
new build development programme
property sales performance
flood risk
high rise cladding
customer satisfaction
business plan stress testing


Investor Relations Online
To support our investors we have subscribed to a portal called Investor Relations Online. The service allows us to share information with existing and potential investors quickly and simply.  The portal has been designed by bond market professionals, taking into account the needs of investors and issuers.  
As an investor in PA Housing you will benefit from a single access point through which you can build your understanding of our business and manage your ongoing due diligence, secure in the knowledge that it complies with all regulations concerning disclosure  
You can find the IRO website here: 
Please note this is a subscription based service and you will need to register for an account.  Subscription is free for investors.

Our strategy  
Our strategy is to continue to fund responsible growth, with investment enhancing the value of the business. 
Find our more in Our Corporate Plan. 
Our governance  
Our board members are responsible for governing PA Housing. They determine our direction and strategy in an effective and accountable way. We believe that it is important that we are open and transparent in all we do. 
Announcements 
Please contact our Finance Director Simon Hatchman for further information.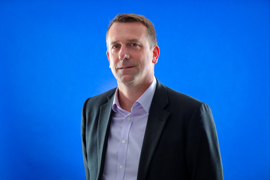 Simon Hatchman
Finance Director